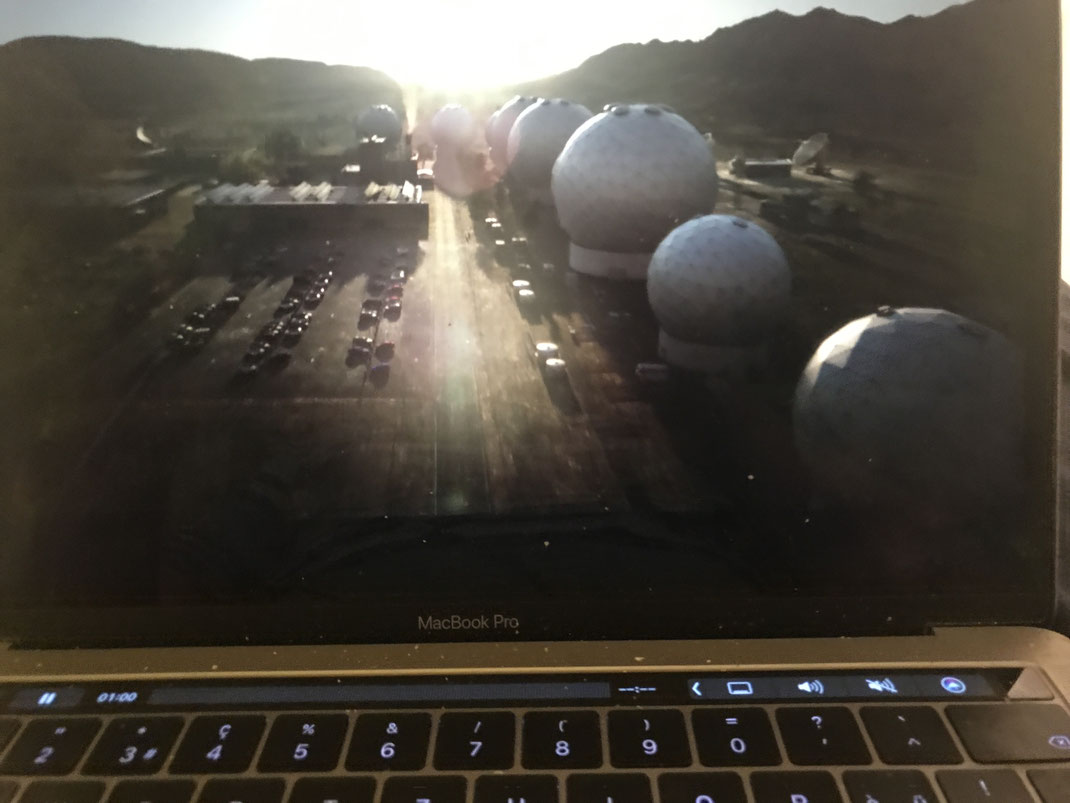 Pine Gap is a Netflix original series. In the secret pine gap base, the Australian government and the NSA are controlling the biggest surveillance network in the whole world. Gus Thomson is one of the operators of pine gap and one day when a file transmission took longer, he uncovered a computer virus. During the fear of having a traitor inside a base, an epic political thriller begins.
The first impression, the intro of each episode is already very cool, so it absolutely follows the view that everyone has of an agent: You can hear different voices and you can hear the speech of the Australian president who is talking about the relationship between the  US  and Austalia. Then when I first saw the landscape around the base, I knew that this series is going to be a firework of HDR  images.  Netflix has done a great job. There are a lot of epic overhead shots, that are absolutely stunning in this lonely wilderness. The scene design (including the computer graphics) is very realistic, not only that everything looks real, but also because there is a lot of detail in every object. The dark server's with their very bright blinking lights are looking so cool, you would love to work in Pine Gap too.  The story is very good, but they could include more switches between time and space. For an example, it would be very interesting to shortly see the reaction of the president's when the bomb exploded, but it would also be very interesting to see the event's in the series from a global viewpoint.
The actors are very good (especially  gus thomphson) and kenns but unfortanatly they forgot to build emotional situations into the story. And because all of the "big" actions in the series happen in another place,  you dont really  feel with them, so my empathie wasn't that big.
I  can recommend this series to everybody that loves political thrillers with cool landscapes. The HDR is top.
standard 21:37:05.741723 +0100 iTunes [APSampleBufferConsumerForEndpointStream] [0x00006000037BA640] Perform one enqueue
standard 21:37:05.741927 +0100 iTunes [APSampleBufferConsumerForEndpointStream] [0x00006000037BA640] BBuf is cleared; got a new sbuf 0x0000000000000000
standard 21:37:05.742032 +0100 iTunes [APSampleBufferConsumerForEndpointStream] [0x00006000037BA640] queue 0x0000600003EC7800 is empty
standard 21:37:05.742064 +0100 iTunes [APSampleBufferConsumerForEndpointStream] [0x00006000037BA640] NULL currentWorkingBlockBuffer; at Low Water
standard 21:37:05.742093 +0100 iTunes [APSampleBufferConsumerForEndpointStream] [0x00006000037BA640] Done with One: atHigh: No; atLow: Yes
standard 21:37:05.742122 +0100 iTunes [APSampleBufferConsumerForEndpointStream] [0x00006000037BA640] All done: atHigh: No; atLow: Yes
standard 21:37:05.742150 +0100 iTunes [APSampleBufferConsumerForEndpointStream] [0x00006000037BA640] Timer Callback Done
standard 21:37:05.765126 +0100 useractivityd [PBOARD CONTROLLER] Got type update from client, gen: 63, <private>
standard 21:37:05.764733 +0100 pboard Sending pasteboard update to server: <private>
standard 21:37:05.764770 +0100 pboard [Local Pasteboard] Adding alias: public.text for type: public.utf8-plain-text