Gestern habe ich mein MacBook zu einem authorized SERVICE Provider gebracht, weil die B Taste aufgrund von Staub nicht mehr funktionierte. Dort habe ich erfahren, dass Apple mir kostenlos das gesamte super Case tauschen wird!
Reinigungstipps:
1.Use a credit-card or something similar to put out dust from the sides of the key.
2.Use sie pressure
Use brute force😂
4.Freeze thee device as then all  materials get smaller.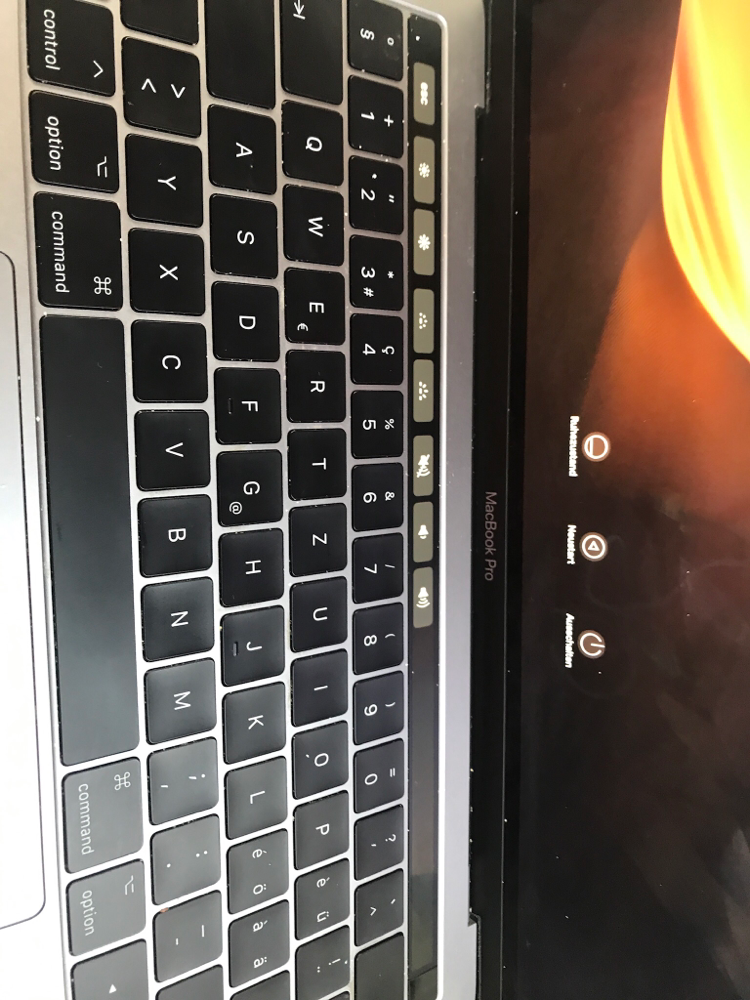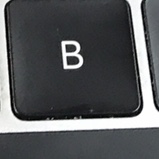 Anonymous UUID:       913F4C92-E536-45CC-44CB-D0F8C8C23609
Sun Dec 16 12:56:15 2018
 occurred. ID=0xffffffff ARG1=0xffffffff ARG2=0xffffffff ARG3=0xffffffff EDD0=0xffffffff EDD1=0xffffffff EDD2=0xffffffff EDD3=0xffffffff EDD4=0xffffffff EDD5=0xffffffff EDD6=0xffffffff EDD7=0xffffffff NANDV=0x1, DRAMV=0x2, SSDC=256GB. FW Revision=16.14.01\n"@/BuildRoot/Library/Caches/com.apple.xbs/Sources/IONVMeFamily/IONVMeFamily-387.201.1/IONVMeController.cpp:5307
Backtrace (CPU 0), Frame : Return Address
0xffffff80373eba10 : 0xffffff8012faca1d 
0xffffff80373eba60 : 0xffffff80130e6b13 
0xffffff80373ebaa0 : 0xffffff80130d859a 
0xffffff80373ebb10 : 0xffffff8012f59ca0 
0xffffff80373ebb30 : 0xffffff8012fac437 
0xffffff80373ebc50 : 0xffffff8012fac283 
0xffffff80373ebcc0 : 0xffffff7f95f485a8 
0xffffff80373ebe20 : 0xffffff801365da07 
0xffffff80373ebe90 : 0xffffff801365d929 
0xffffff80373ebec0 : 0xffffff8012fe8865 
0xffffff80373ebf40 : 0xffffff8012fe8415 
0xffffff80373ebfa0 : 0xffffff8012f590ce 
      Ja]@0xffffff7f95f34000->0xffffff7f95f72fff
            dependency: com.apple.driver.AppleMobileFileIntegrity(1.0.5)[040FEAE3-D15E-3E9C-A063-6E4F6B860089]@0xffffff7f93d8b000
            dependency: com.apple.iokit.IOPCIFamily(2.9)[489347FC-95B1-3600-AD24-0E43A78859CB]@0xffffff7f93895000
            dependency: com.apple.driver.AppleEFINVRAM(2.1)[72552A03-D771-3D6E-B6DE-F3DA267689CE]@0xffffff7f93f20000
            dependency: com.apple.iokit.IOStorageFamily(2.1)[90935CA0-238A-3ACB-9D78-D0EDA89BE856]@0xffffff7f93b86000
            dependency: com.apple.iokit.IOReportFamily(47)[A3E1CFA2-CF9F-389F-A013-DB84A43760CE]@0xffffff7f943d0000
BSD process name corresponding to current thread: kernel_task
Mac OS version:
18A377a
Kernel version:
Darwin Kernel Version 18.0.0: Wed Aug 22 20:59:21 PDT 2018; root:xnu-4903.201.2~4/RELEASE_X86_64
Kernel UUID: D05DACF4-9869-35A1-B56A-299FC3DB9A93
Kernel slide:     0x0000000012c00000
Kernel text base: 0xffffff8012e00000
__HIB  text base: 0xffffff8012d00000
System model name: MacBookPro14,2 (Mac-CAD6701F7CEA0921)
System uptime in nanoseconds: 3915274491578
last loaded kext at 244253643105: com.apple.filesystems.msdosfs 1.10 (addr 0xffffff7f96707000, size 69632)
last unloaded kext at 736293201824: com.apple.filesystems.msdosfs 1.10 (addr 0xffffff7f96707000, size 61440)
loaded kexts:
org.virtualbox.kext.VBoxNetAdp 5.2.20
org.virtualbox.kext.VBoxNetFlt 5.2.20
org.virtualbox.kext.VBoxUSB 5.2.20
com.avira.kext.FileAccessControl 1.2.5
org.virtualbox.kext.VBoxDrv 5.2.20
com.apple.driver.AppleHIDALSService 1
com.apple.driver.AudioAUUC 1.70
com.apple.fileutil 1
com.apple.driver.AGPM 110.23.41
com.apple.driver.ApplePlatformEnabler 2.7.0d0
com.apple.driver.X86PlatformShim 1.0.0
com.apple.filesystems.autofs 3.0
com.apple.driver.AppleUpstreamUserClient 3.6.5
com.apple.driver.AppleHDA 282.10
com.apple.driver.AppleGraphicsDevicePolicy 3.22.18
com.apple.AGDCPluginDisplayMetrics 3.22.9
com.apple.driver.AppleHV 1
com.apple.driver.AppleIntelKBLGraphics 12.0.0
com.apple.iokit.IOUserEthernet 1.0.1
com.apple.iokit.IOBluetoothSerialManager 6.0.8f5
com.apple.driver.AppleIntelPCHPMC 2.0.1
com.apple.driver.AppleEmbeddedOSSupportHost 1
com.apple.driver.pmtelemetry 1
com.apple.Dont_Steal_Mac_OS_X 7.0.0
com.apple.driver.AppleIntelSlowAdaptiveClocking 4.0.0
com.apple.driver.AppleIntelKBLGraphicsFramebuffer 12.0.0
com.apple.driver.AppleOSXWatchdog 1
com.apple.driver.eficheck 1
com.apple.driver.AppleThunderboltIP 3.1.2
com.apple.driver.AppleBacklight 170.12.11
com.apple.driver.AppleMCCSControl 1.5.7
com.apple.filesystems.apfs 945.200.128
com.apple.driver.AppleVirtIO 2.0.7
com.apple.filesystems.hfs.kext 407.200.4
com.apple.AppleFSCompression.AppleFSCompressionTypeDataless 1.0.0d1
com.apple.BootCache 40
com.apple.AppleFSCompression.AppleFSCompressionTypeZlib 1.0.0
com.apple.AppleSystemPolicy 1.0
com.apple.driver.AppleTopCaseHIDEventDriver 138
com.apple.driver.AirPort.BrcmNIC 1400.1.1
com.apple.driver.AppleSmartBatteryManager 161.0.0
com.apple.driver.AppleACPIButtons 6.1
com.apple.driver.AppleRTC 2.0
com.apple.driver.AppleSMBIOS 2.1
com.apple.driver.AppleACPIEC 6.1
com.apple.driver.AppleAPIC 1.7
com.apple.nke.applicationfirewall 190
com.apple.security.TMSafetyNet 8
com.apple.driver.usb.cdc.ncm 5.0.0
com.apple.driver.usb.IOUSBHostHIDDevice 1.2
com.apple.driver.usb.AppleUSBiBridge 1.0
com.apple.driver.usb.cdc 5.0.0
com.apple.driver.usb.networking 5.0.0
com.apple.driver.usb.AppleUSBHostCompositeDevice 1.2
com.apple.iokit.IOUSBUserClient 900.4.2
com.apple.driver.AppleUSBHostMergeProperties 1.2
com.apple.kext.triggers 1.0
com.apple.driver.DspFuncLib 282.10
com.apple.kext.OSvKernDSPLib 527
com.apple.driver.AppleGraphicsControl 3.22.18
com.apple.iokit.IOAVBFamily 700.6
com.apple.plugin.IOgPTPPlugin 700.7
com.apple.iokit.IOEthernetAVBController 1.1.0
com.apple.driver.AppleSSE 1.0
com.apple.driver.AppleHDAController 282.10
com.apple.iokit.IOHDAFamily 282.10
com.apple.iokit.IOBluetoothHostControllerUARTTransport 6.0.8f5
com.apple.iokit.IOBluetoothHostControllerTransport 6.0.8f5
com.apple.AppleGPUWrangler 3.22.9
com.apple.iokit.IOSlowAdaptiveClockingFamily 1.0.0
com.apple.iokit.IOAudioFamily 206.5
com.apple.vecLib.kext 1.2.0
com.apple.iokit.IOAcceleratorFamily2 400.24
com.apple.iokit.IOSurface 255.1
com.apple.driver.X86PlatformPlugin 1.0.0
com.apple.driver.IOPlatformPluginFamily 6.0.0d8
com.apple.driver.AppleIntelLpssUARTv1 3.0.60
com.apple.driver.AppleIntelLpssUARTCommon 3.0.60
com.apple.driver.AppleOnboardSerial 1.0
com.apple.iokit.IOSkywalkFamily 1
com.apple.AppleGraphicsDeviceControl 3.22.18
com.apple.driver.AppleBacklightExpert 1.1.0
com.apple.iokit.IONDRVSupport 530
com.apple.driver.AppleSMBusController 1.0.18d1
com.apple.iokit.IOGraphicsFamily 530.9
com.apple.iokit.IOSerialFamily 11
com.apple.filesystems.hfs.encodings.kext 1
com.apple.driver.AppleActuatorDriver 2400.15
com.apple.driver.AppleHIDKeyboard 208
com.apple.driver.AppleHSBluetoothDriver 138
com.apple.driver.IOBluetoothHIDDriver 6.0.8f5
com.apple.iokit.IOBluetoothFamily 6.0.8f5
com.apple.driver.AppleMultitouchDriver 2400.15
com.apple.driver.AppleInputDeviceSupport 2400.7
com.apple.driver.AppleHSSPIHIDDriver 55
com.apple.driver.AppleThunderboltDPInAdapter 5.5.7
com.apple.driver.AppleThunderboltDPAdapterFamily 5.5.7
com.apple.driver.AppleThunderboltPCIDownAdapter 2.1.4
com.apple.driver.AppleHPM 3.3.0
com.apple.driver.AppleIntelLpssI2CController 3.0.60
com.apple.driver.AppleHSSPISupport 55
com.apple.driver.AppleThunderboltNHI 4.7.5
com.apple.iokit.IOThunderboltFamily 6.8.1
com.apple.iokit.IO80211Family 1200.12.2
com.apple.driver.mDNSOffloadUserClient 1.0.1b8
com.apple.driver.corecapture 1.0.4
com.apple.driver.AppleIntelLpssSpiController 3.0.60
com.apple.driver.AppleIntelLpssDmac 3.0.60
com.apple.iokit.IONVMeFamily 2.1.0
com.apple.driver.AppleIntelLpssGspi 3.0.60
com.apple.driver.AppleIntelLpssI2C 3.0.60
com.apple.driver.usb.AppleUSBXHCIPCI 1.2
com.apple.driver.usb.AppleUSBXHCI 1.2
com.apple.driver.usb.AppleUSBHostPacketFilter 1.0
com.apple.iokit.IOUSBFamily 900.4.2
com.apple.driver.AppleEFINVRAM 2.1
com.apple.driver.AppleEFIRuntime 2.1
com.apple.iokit.IOSMBusFamily 1.1
com.apple.iokit.IOHIDFamily 2.0.0
com.apple.security.quarantine 3
com.apple.security.sandbox 300.0
com.apple.kext.AppleMatch 1.0.0d1
com.appl